I recently had the pleasure of filming the wedding of Naomi Sheridan and Mark Little, who came home to Ireland from Manhattan to get hitched amongst a gathering of family and friends, up in the hills, in the picturesque surroundings of Co. Wicklow.
When I was originally contacted to film the wedding, the name Naomi Sheridan jumped out at me from the e-mail. Naomi is an Oscar-nominated screenwriter (for 'In America'), which she wrote with her sister Kirsten ('Disco Pigs') and their dad Jim (living legend).
Jim Sheridan has been one of my favorite filmmakers ever since I was young when I first saw 'My Left Foot'. I saw 'In The Name of the Father' for the first time when I was ten. To this day, it's one of my all-time favorite movies. He has directed one of my favorite actors, Daniel Day Lewis, in three powerhouse performances.
In 2003, I was blown away by the Oscar-nominated 'In America', which was written by Jim, Naomi and Kirsten and directed by Jim. The film, for me, is about the importance of the family bond that can never be broken (a common thread in Sheridan's work), and is based on the actual experiences of the Sheridan family in New York in the 1980s.
Knowing that 'family unity' is a strong and common theme to come from the creative output of the Sheridan family, I knew that a family wedding would be quite special. And it really was.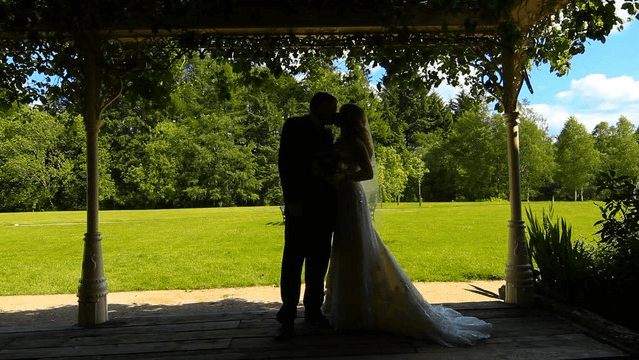 Yes, it was an Irish wedding, and yes, I was expecting it to rain. But it didn't. Weather-wise, the day was glorious. That morning, Naomi prepared in The Brooklodge, helped by her mam Fran and sisters Kirsten and Tess. Down below at the quaint little white chapel (on the grounds of the hotel), the groom Mark and the lads greeted guests as Naomi stepped into her dress up above.
At the door of the chapel, just before Naomi was to take her walk down the aisle, Jim asked her "Have you got someone doin' video?" I got a kick out of this one: I was nearby but he didn't see me shooting. Just the way I like it. Later on, something similar would happen during Jim's father of the bride speech, when he momentarily (and jokingly) obscured himself from the view of my camera behind a tall and large flower arrangement and Terry George piped up from across the room: "You stepped out of his shot!" I got a kick out of that; that George, an Oscar-winning filmmaker was on his "game" and was erudite enough to notice the moment it happened (from across the room!).
I was filming among world class players on the international film scene – directors, writers, cinematographers – who were all lovely people, chilled out and having a great time, and who seemed to understand my approach to shooting the day which helped enormously, so there was no need for nervousness or to feel like I needed to impress. I spoke with Naomi on several occasions prior to the wedding and I knew that she was a real down to earth gal who didn't want a big production or show at her wedding. She was hiring me, she said, because she loved my work, but also because of my way of working: a discreet, unobtrusive, fly-on-the-wall approach. A cinematic result without the rigors of a cinematic shoot. Best to leave the big production vibe to the Hollywood backlot. This was, like all of my weddings, a special and intimate occasion with the family and friends of a couple, not a film shoot.
The photographer Will O'Reilly reminded me (thanks, Will) that I in particular had my work cut out for me in a "No pressure" kinda way. But the day just fell together perfectly and at a relaxed and natural pace. The band was The Long John Jump Band, and they kept the floor hopping all night, lead by Naomi's uncle. Everything went great, and Naomi now tells me that her family are clamoring for their copies of the wedding film.
So there I was: shooting a really cool wedding for really cool people who I've admired since I was little. Do I have the best job in the world? Well writing and directing films for a living would be the coolest job in the world – but this just might be a close second!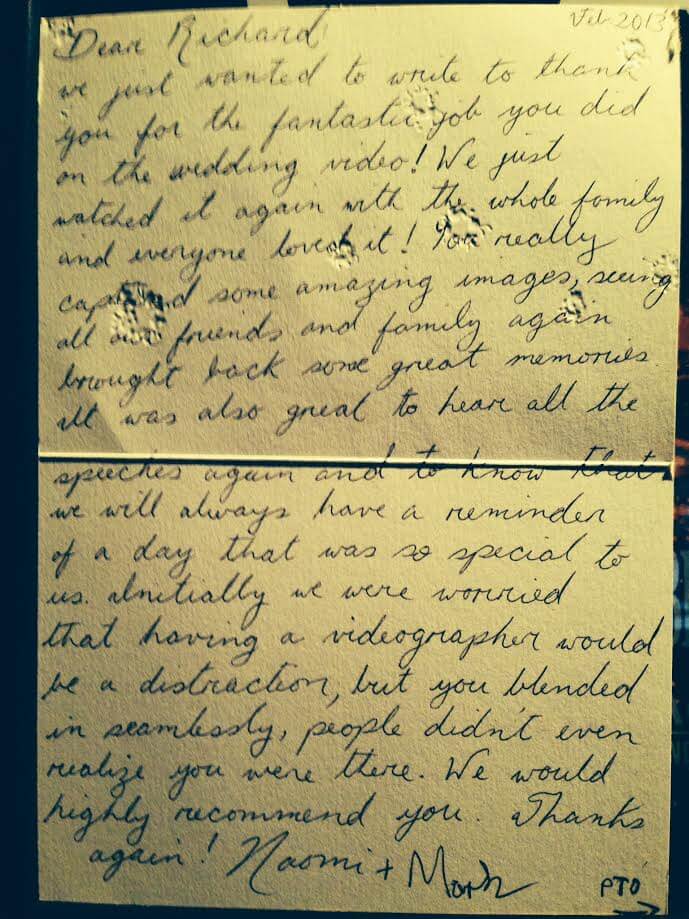 Naomi and Mark – thank you so much for choosing me to be your official wedding videographer and I'm thrilled that you guys are happy with the final result.
UPDATE 2017: I'm delighted to have been invited back to shoot Tess and Neil's (that's Naomi's sister) wedding this year at Castle Leslie. After working on a documentary with Jim earlier this year, it's great to be shooting another Sheridan wedding.