A comprehensive guide to what's happening with weddings in Ireland during the COVID-19 global pandemic.
Advice from couples and suppliers on wedding postponements.
I spoke to couples and wedding suppliers about their experiences since the start of the global pandemic. They very graciously shared with me their thoughts and suggestions, including advice for couples who are anxious about the future. As a wedding videographer filming in Ireland for almost fifteen years, the effects of this virus are unlike anything I've ever experienced.
"Terror, sadness, disappointment… We are from Vancouver, Canada and figured we would be fine as we never get anything as badly as the states but then the country shut down, travel bans were put into place, and then Ireland closely followed suit. In the span of about a week the world had changed and our dream wedding was crushed."

Ashley, planning her Irish wedding from Canada, booked me as her wedding videographer
"[The postponements didn't start] straight away as I wasn't due to shoot a wedding until 17th April. But soon enough they cancelled. They were due to fly in from Dubai. It was sad really, they were such a cool couple and we had had a meeting and discussed all the photos we would get. Soon after that, other postponements started coming in. It will be a busy year next year!!"

Nicola Webster of Nicola Webster Photography
"We contacted our videographer first (as this is the most important thing to us and we want the best of the best)! Richard was able to move our date and the rest fell into place… The process was very smooth and not as complicated as I thought it would be! We have now planned three weddings in a very short space of time. If we can do that, we can do anything."

Hayley had to postpone her wedding twice in a short period of time
New York. March 2020.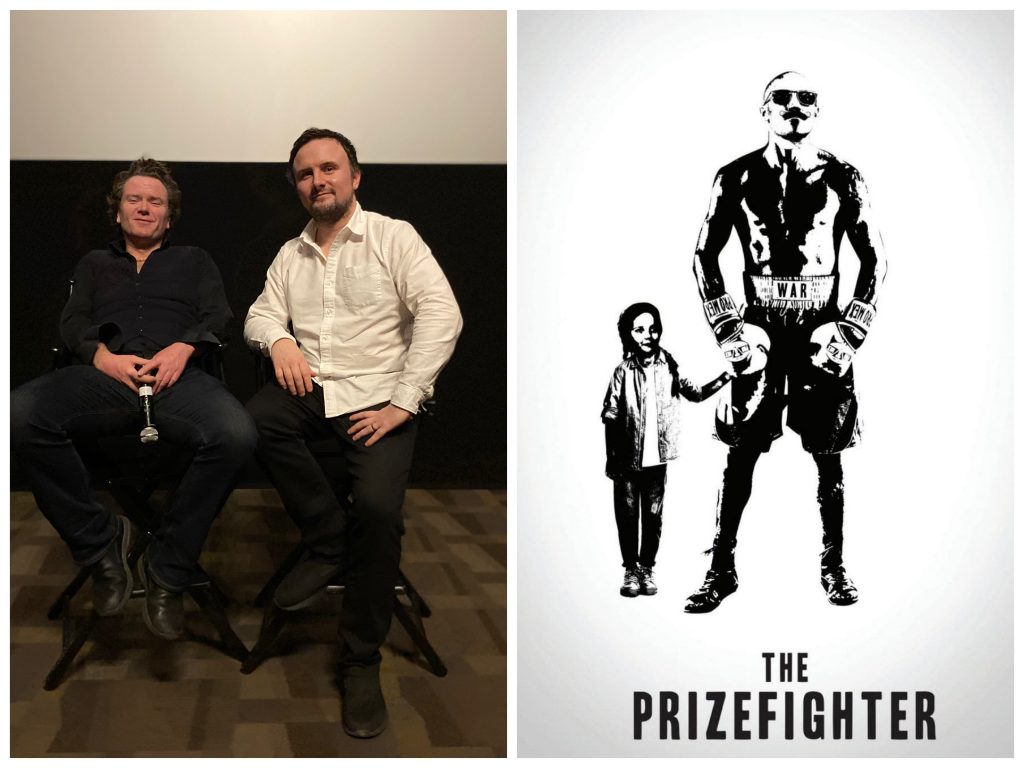 We arrived in New York around the same time that the World Health Organization declared that we are currently experiencing a lethal global pandemic. The tension knob was at about four, and it was slowly turning clockwise with every news report. If we had known more, we may not have left Ireland. I was to be the official wedding videographer at many upcoming weddings in 2020, and people were speculating about what was going to happen.
It was business as usual in New York, the streets as packed as ever, with people taking selfies in Times Square and outdoor vendors on almost every block. Once I got to my hotel room, a couple of e-mails had landed in my Inbox from couples asking what they need to do if they're going to postpone their wedding. I wrote many an assuring and informative e-mail to my couples, stating that I would happily transfer bookings to their new date if I was available. The postponements hadn't started yet.
The flights to and from America were almost empty. We were in Manhattan for the US premiere of our film 'The Prizefighter', at Craicfest, a film festival that started in 1999 to showcase "the best in new and emerging Irish film and music." A film about getting up off your knees and battling on, the world seemed to be slowly grinding to a halt and the uncertainty and anxiety was palpable. What would lay ahead? Would the world be brought to its knees as many were speculating, and would we ever recover?
It's a miracle that we arrived home without the virus, considering that one of our party has a serious respiratory condition, and knowing what we now know of New York becoming the US epicentre of the virus shortly after we left.
The festival director, Terrence Mulligan, who we partied hard with after the screening of the film in a night of total debauchery, fell ill with COVID-19 shortly after we arrived home. "Within days I was fighting to take a complete breath. I was just not breathing at a normal capacity", he said to Irish Central. Even though the festival had scaled back on seating and crowd size, the screening still went ahead successfully. Mulligan, who is still recovering, believes he caught the virus during one of the days of the festival.
The moment I received an e-mail from Aer Lingus warning me that my flight home was to be delayed that night, I went straight to the airport, and I was on a plane almost immediately. Once back in Dublin, the tsunami of wedding postponements began…
"I remember first hearing about Covid-19 back in mid January. I had read an article about a mystery virus that was spreading in China, but I have to be honest and say I didn't think too much about it. I was under the impression that it was just like the flu and that it wouldn't really effect our lives. Our wedding didn't even enter my mind at first."

Aine, Irish bride postponing from May 2020
"We heard about Coronavirus in January when media coverage began to intensify. At that stage we could never have imagined this would have resulted in our wedding being postponed. It wasn't until weddings were being postponed in Italy that it crossed our minds, and even then we thought the likelihood that this would result in postponed weddings in Ireland, in August, was very slim."

Nadia, Irish bride postponing from August 2020
The early stages. What were couples and suppliers thinking initially?
Nadia, a bride who booked me as her wedding videographer, had to postpone her August 2020 wedding to a new 2021 date. She remembers "By late March we were increasingly worried our wedding may be impacted. In April we decided it was prudent to get on the front foot and consider being proactive and postponing, so we could secure a date in 2021. We wrote a list of pros and cons to postponing, and the pros outweighed the cons. When we spoke to our venue they told us they had already postponed all June and July weddings and thought the likelihood of our wedding now taking place on the original date was very slim. We have now agreed a new date with the venue and fortunately the majority of our suppliers can also do this date. We feel very lucky."
Ashley, planning her dream wedding in Ireland from Vancouver, Canada said "I remember hearing about COVID-19 in early March and didn't think much about it. At the time we thought the news was blowing it out of proportion and everything would remain the same. We had no idea that it would effect the wedding never mind force us to postpone our dream wedding for another year. We were lucky enough to have all of our venders able to postpone to a date close to our original date next year. At this point we have let all of our friends and family know that the change has been made and we still plan to go ahead next year if we are able to travel by then. It is very scary thinking that this could all still be going on next year and we will ultimately have to scrap the wedding plans that took us 2 years to plan and come up with an alternative option if we have to stay in British Columbia."
Hayley, originally to be a May 2020 bride, writes, "The first time I heard of Covid-19 was probably back in January 2020. Someone sent me a meme on WhatsApp which had a picture of a corona bottle and a bottle of Heineken and the Heineken bottle had a mask on it. At the time, I was thinking that the person who sent it to me had a weird sense of humour and thought nothing of it! I honestly didn't get the joke until a few days later when I watched the news and seen what had unfolded in China. My wedding being affected did not enter my mind until late February/early March time."
"When Covid-19 first hit Ireland, I remember thinking that this would all blow over in a few weeks time so long as there was enough hand sanitiser for everyone! At the time, the company I work for removed a few chairs from our canteen and put up a few posters about hand hygiene and covering your mouth when you cough. That is probably as serious as I saw the whole situation initially. Even when the government closed the schools, my naivety continued as I ploughed on with the preparations of our special day. Our wedding was initially booked for May 2020. A colleague of mine was due to be married in April 2020 and postponed in March due to his mother being in the "at risk" group. I thought that as long as none of my family were part of this category, there was no need to even consider postponing! A few days later, I was told not to come into the office and to work from home for the foreseeable."

It was then in March 2020 that Hayley received the "dreaded phone call" from her wedding venue "advising that due to the outbreak, they were postponing all weddings booked to take place in May 2020. Our venue is currently undergoing renovations so our wedding was going to be the first wedding to take place for the year and we were the first bride and groom to be notified. When we told our family, they were all shocked! We were in shock too. However, almost like autopilot, we immediately got on to all our suppliers to see if they were available for the new date in September 2020 that our venue had provided to us.
We contacted our videographer first (as this is the most important thing to us and want the best of the best)! Richard was able to move our date and the rest fell into place. Unfortunately a few of our original suppliers were unavailable but with the help of our current suppliers, we were able to get great recommendations for alternatives. We thought that would be the end of it until we received another phone call from our venue in April advising that the restrictions were likely to remain in place until the end of the year and they felt it prudent to postpone further. We now have a third wedding date of August 2021! For the second time, we contacted all our suppliers and thankfully, they were mostly available."
Kate, who had to postpone her wedding just 12 days prior to her special day, was caught in the first wave. She said "I think the first time I remember hearing about Covid 19 was in January through some media coverage regarding the outbreak in China. I never even considered at the time that it would have a direct impact on my own wedding here in Ireland. Initially, I still didn't consider that the virus could impact our wedding the way it did. I was maybe a little naive looking back although I don't think anyone anticipated such extreme measures to have to be implemented."

Kate continues: "Our wedding was due to take place on 28th March and therefore we had to make the decision to postpone within a very short space of time – just 12 days before the wedding. When the initial announcement of restrictions was released on the 12th March, my partner was on his way to the airport for his stags in Cheltenham! It was very difficult for me as I had the following 4 days at home alone unsure of what was to come. We initially hoped to proceed and cut our numbers almost in half to stay within the limit of 100 people. A text to all of our guests explaining this gave them the opportunity to pull out if they were considered vulnerable or were uneasy about attending. As the days progressed however and Noel returned from his stags, I put my initial disappointment and upset to the side and allowed my practical side take the lead, realising that we had to make the difficult decision to postpone entirely and come up with a plan B. Having liaised with the venue first and foremost, we were provided with a list of available future dates.
I am a primary teacher and our initial date was based entirely on my access to time off for honeymoon over the Easter holidays. We were also pretty determined that we didn't want a midweek wedding considering the impact it has on guests time off and the fact that a large number of our guests work in a school setting. I was very disheartened to find that our venue had no weekend dates available for the rest of the year. I did spot however that the next available Friday happened to be New Years Day. Not only would that suit my school based guests as it's a public holiday, but it is also our son's birthday so it's a very special day for us anyway! I made some lightening speed contact to my main suppliers in the hope that the majority of them would be possibly free too and we managed to secure all but hair and make up so we knew it was meant to be!!"
Aine also booked me as her wedding videographer, and she was able to postpone to the exact same date, but next year. She recalls, "When I heard it had spread to Ireland, I still didn't really think it would affect our wedding at first. Our wedding wasn't until May, so just assumed it would all be ok by then. As the restrictions got tighter and went on for longer, I was still holding out hope because I thought it would be easier to cancel last minute as everyone would understand we had no choice, but if I cancelled prematurely and things didn't get as bad as they expected, we'd never be able to reorganise in time. However, when it was announced that the restrictions would continue into Easter, I was definitely nervous. I felt at that point it would nearly be worse if the restrictions were lifted just before our wedding date so we'd have to go ahead so as not to lose all our money on deposits, and yet have so many of our guests not want to come because of the uncertainty and risk that we'd have felt like we didn't end up with the wedding we wanted.

We have postponed our wedding for the same date next year, May 2021. We decided to wait a whole year as we felt that there is just no knowing how long this could go on for. There were sooner dates available from our venue but we didn't want to take the chance. We think that by May 2021 things will be back to normal, even if it's a new normal. Things might not go back to the way they were for a long while, but by May we will all have had time to adjust to whatever restrictions remain in place and will be able to enjoy the celebration. Our guests were all so positive, and we've had the loveliest messages coming in from friends and family supporting the decision to postpone until next year. Luckily for us, we didn't have any guests travelling from abroad so it hasn't caused any problems. For us, it was most important that our venue was available. Once we had our new date confirmed with them, we were able to get on to all our other vendors and suppliers, and luckily, most were able to change dates."
Nadia finishes with, "It's been a strange time for everyone, I'm sure. It's been a good test of our relationship as we've been cooped up now since the lock down began. We've come through it strongly and have only threatened to leave each other a handful of times!"
Should I postpone my wedding because of Coronavirus?
COVID-19 has wreaked havoc on weddings globally. Couples are heartbroken with uncertainty and anxiety. Many wedding suppliers feel they have one foot in the grave and the other one's slippin'. As a wedding videographer with almost fifteen years of weddings under my belt, I've never seen anything like it, and I hope I never will again.
For several weeks now, we have all heeded the advice of governments, scientists and healthcare experts and professionals. Citizens and government have worked in tandem in an attempt to battle this deadly virus. The actions and cooperation by the public have had a real effect in "flattening the curve" in most countries, but we're not out of the woods just yet. The economic impact, and the impact on people's lives, has been unprecedented in modern times, with comparisons being made to the carnage wrought by World War II.
Now we have a "road map" from the Irish government for getting out of this nightmare and returning to a "new normal". A "living document", they call it. A plan.
There are five stages. A phased approach, based on the continual control of the virus, beginning on May 18th 2020.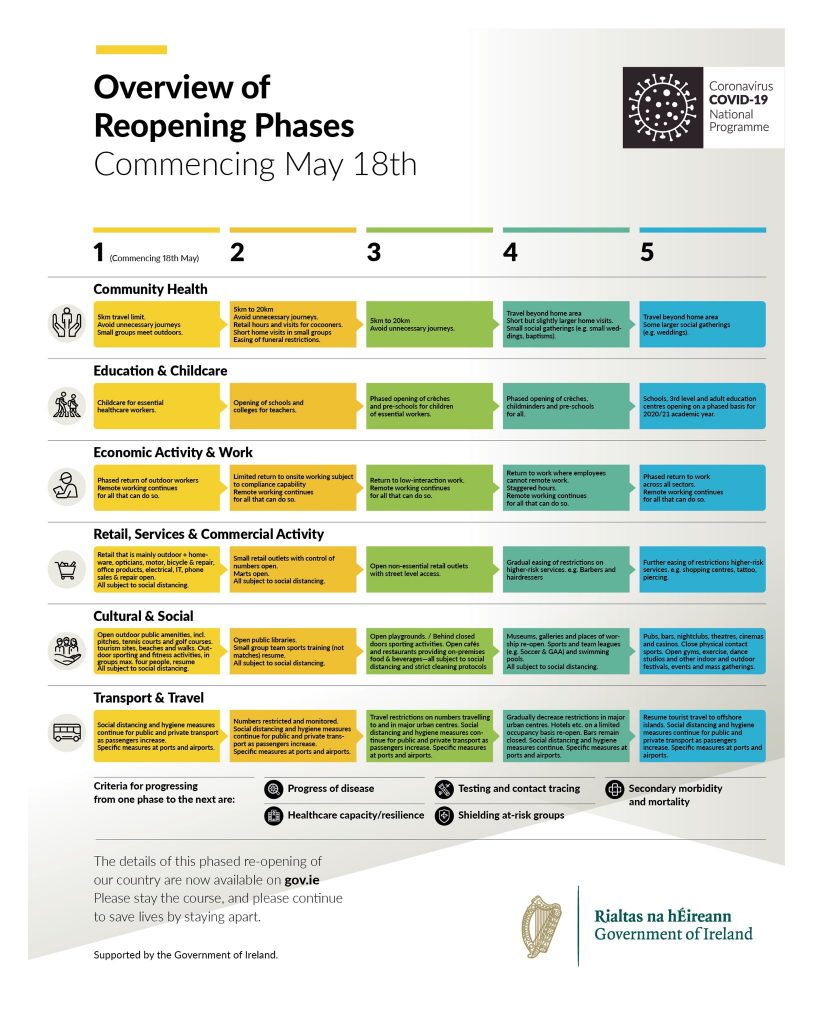 "WHO predicts that the most plausible scenario is recurring epidemic waves interspersed with periods of low level transmission".

National Public Health Emergency Team, May 1st 2020
Stages 4 and 5 of the Irish government plan pertain to weddings, and these are the stages that couples and Irish wedding suppliers should be keeping their eyes on.
Stage 4 on July 20th 2020 allows for small social gatherings (e.g. small weddings).
And at Stage 5 on August 10th 2020, some larger social gatherings (e.g. weddings) are permitted, but where social distancing measures can be maintained.
Irish Prime Minister Leo Varadkar was quick to point out in a recent interview that in other countries, like Japan and Singapore, they've had to go back a stage and reimplement certain measures because of a rise in the number of cases of the virus. It's quite possible that one of the stages that the Irish government has outlined may need to be extended or paused if the virus gets worse.
We do not yet know what the definition of a "small wedding" or a "large wedding" is in terms of numbers of guests to be allowed.
Ultimately, the decision to postpone your wedding, or not, is a personal choice, and you must take various factors into account. There is no ONE answer for everyone.
How do brides feel after postponing their weddings?
It was just before the re-opening announcement from Irish Prime Minister Leo Varadkar on May 1st that I posed several questions to some of my clients who had postponed their weddings just recently. I wanted to get a sense of their thought processes behind postponing, and all of the considerations that had to be made, as well as dealing with their wedding venue and other wedding suppliers.
Ashley, planning from Canada, said "There still are sleepless nights, days spent crying haha I've spent my whole life thinking and dreaming about my dream wedding. It was all just about to become a reality and then it was just…gone. It has definitely brought on fits of depression in not only my fiancè and I but our friends and families as well who were looking forward to our wedding and a vacation."
And has the excitement returned for Ashley, now that she has postponed her wedding? "Not yet. We still feel panicked thinking that it could be taken away from us again but for the time being we are just thankful to still have one another. We have done everything we can do and we are very lucky our team is all on board so now we just have to wait and hope. Our venue and all of our suppliers were more than accommodating and 100% understanding about the whole situation. Everyone stayed in constant contact via email and we were all able to easily move to the new date."
Kate, who had to postpone her wedding just 12 days before it was originally scheduled, said "I would be quite an anxious person anyway so yes, this really did impact me personally. Sadly, my aunt also passed away the week of the initial restrictions in March after a very short illness. The funeral took place on the 11th, the day before Leo's first announcement and so many people that day said "Oh you are getting married in two weeks" with a look of sympathy on their face…. Of course they didn't mean anything by it but it caused me to become really paranoid as I thougtht they had heard an announcement before I did or they knew something I didn't!! It was for sure a very stressful week but I feel that the announcement on the 12th gave us some clarity at least and then after the initial upset, I felt a huge weight lifted off my shoulders once we made the decision to postpone and secured a new date."
Kate continues, "I have to say, the whole process has made me realise that I made the right decision in choosing the venue and suppliers that I did as everyone involved made the postponement so easy and stress free for us! All suppliers were available to contact at short notice via e-mail or phone and my venue insisted that the duty manager dealt with any queries from brides and grooms who were stressed so that decisions could be made on the spot rather than having to liaise with more junior members of staff who needed to seek approval. The manager saw us as people rather than a number and dealt with us in a way that we felt we were the only couple going through this, although I'm sure she was dealing with absolute chaos behind the scenes!!"
Aine, who should have had her wedding just days ago, said "Luckily for us, all our friends and family are safe and that is most important. Of course Covid-19 has had a huge impact on us all, but it has not effected our mental health or made us anxious in any way. We are staying home except for our weekly shop and keeping in touch with family and friends online. It is the best we can do right now and we look forward to the day when we can all get together again. I actually felt a huge wave of relief once we made the decision to postpone. Even if the wedding was going to go ahead, we would have lost out on a lot of the excitement in the lead up to the big day. I would have felt a bit robbed of having the chance to spend time with my parents, pamper time, excitedly going through details with the bridal party etc."

But Aine is looking on the bright side, "I now see it as an extra 12 months to be excited! I have loved planning our wedding and now I get to spend another year adding extra details for a bigger and better celebration when our day does finally come around. Luckily, most of our vendors have been fantastic and so accommodating. It's a difficult time for anyone in the wedding industry so we appreciate their understanding and flexibility. Our venue have also been fantastic and made the change of plan so easy and stress free. Unfortunately our band was not available for our new date, but we were able to book another band of a similar style that we are delighted with. There has also been some positive changes that came out if this. The church we originally wanted to get married in wasn't available for this year, but we have now been able to secure it for next year. Unfortunately, we have lost some money on deposits, but in the grand scheme of things, it's very little and could have been a lot worse. My heart goes out to any couples who planned on getting married abroad as I'm sure it is much more stressful for them!"
Hayley, who had to postpone her wedding twice in a short space of time, said "We have had a few sleepless nights thinking about what the right thing to do is. We feel that our guests health is of the utmost importance. Although Paddy (fiancé) will now be 33 and not 31 as originally planned for the wedding, things could be a lot worse! We have had to tell ourselves a few times that as long as we are together, everything will fall into place. Given that we have now had to postpone twice, we feel like the good was taken out of it a little. That feeling is slowly starting to dissolve and the feelings of excitement are starting to return. Everyone keeps saying that given what has happened, when the day finally comes, everyone will rally around us and make sure it's the best day ever!"
How are wedding suppliers managing during the COVID-19 pandemic?
Wedding photographer Benny, of Laura & Benny Photography remembers, "The virus first interfered with our lives in early February 2020. Our child (17) was not able to go to a Script concert in Dublin, travelling from Cork. At that point it was "the end of the world" for her, but little did we know the full impact the virus would have."
Laura remembers, "In mid March 2020 Benny thought the end of March weddings would still sneak in, under the small numbers restrictions but the closure of bars and hotels before Paddy's Day put an end to that. At that point we did not realise fully how contagious the virus was. Now at the end of April 2020, we fully agree with the stringent rules despite the hardship it has caused to business. We would side on the most cautious approach going forward regarding weddings of any number until a vaccine is widely available."
"At the end of March couples were still trying to host weddings. Numbers were cut from 200 to 100 and social distancing was being practiced. Understandably people were days away from their wedding day that they had been planning for a long time. The extreme risk to life was not yet appreciated, and it would be the last two weeks of March 2020 that Italy would experience high death numbers and people then realised that correctly, weddings were not appropriate to hold."
"The main difficulty couples are finding is matching all their original suppliers to a new date. That can be a challenge to match up as many as possible but even more so is the remaining uncertainty of when weddings will start to take place again and what will be the restrictions. Initially there would have been optimism to move weddings from Spring to Summer in the hope things would go back to normal. As the restrictions continue, there is a high level of uncertainty and a genuine risk to life."
"From a business perspective it has created increased administrative work. As photographers, that can wear you down but it is a challenge, and being self-employed is all about meeting those challenges. Walking, talking, video chats, streaming TV shows and the legendary Dr Tony Holohan has kept me sane. I must say there has been a lot of discussion on the performance of the government and the health agencies, but I think the decisions made and work done has been excellent. I think Ireland has faired extremely well in this crisis. When you throw in social character, environment settings, economic supports with the health policies I do not think I would rather be in any other country."
Mark Fennell of The Fennells says, with regards to postponements, that "People held firm for awhile and then the week after lockdown some postponed, but very few cancellations, most people moved to later in the year."
"I help people with mental health and business concerns", Mark says, "so I am applying what I know, but it's not easy, some days tougher than others but I'm a glass half full person so we keep busy and limit exposure to the news and negative chat, and it has worked. We of course get anxious but we keep routine and get busy to distract ourselves, no sleepless night thankfully. However I have spoken with many who have anxiety and depression. Lack of motivation has been a big factor, and it is understandable."
Nicola Webster says "I had no idea this would be so huge. None of us did. We had an Italian girl living with us and she was going on and on about Covid-19 in Italy and I wasn't really listening to her, she seemed so dramatic about it all. Little did I know that it was about to arrive on our doorstep! In the first few weeks, before the lockdown, I remember I had a client meeting one evening and I was unsure whether to put out my hand for him to shake but I thought it might be rude not to. It was the first time I felt really weird about it all."
For Nicola, the wedding date postponements didn't start straight away. "I wasn't due to shoot a wedding until 17th April. But soon enough they cancelled. They were due to fly in from Dubai. It was sad really, they were such a cool couple and we had had a meeting and discussed all the photos we would get. Soon after that, other postponements started coming in. It will be a busy year next year!!"

"All couples have been really cool. Some cancellations, mainly from couples who live abroad but mostly postponements. The first of the July bookings postponed this week. At first, I felt very anxious about everything. I am just taking one day at a time now. I have been so productive though, I'm really surprising myself. I'm getting to do all the stuff that beforehand would have been totally put off, like a marketing plan, up-skilling in Photoshop, baking!!!"
It seems that many wedding suppliers are feeling similar emotions, as Kevin from Kevin Morris Photography remembers, "First time I heard I didn't think much of it to be honest, just thought it was another flu virus. Certainly didn't consider any business interruption would be caused by it. I have only had postponements so far, and it took a while for them to start. Luckily all the couples have been great to deal with, it's not an easy time for them and having a bit of empathy with them goes a long way. For Kevin, he has experienced "sleepless nights and a big strain mentally, bills and normal day to day expenses have to be managed & paid, this time of year is normally my busiest with weddings, communions & confirmations so all my big renewals such as professional and car insurances, as well as internet / website hosting and my annual accountants fees are all scheduled for the end of April and start of May. Trying to work out where the money will come from is quite stressful."
Should I have a Plan B date for my wedding?
"The Plan B situation doesn't work for couples", Mark would like to emphasise. "It sounds good in theory but is a failed concept. The reason is, a couple pick a Plan B date that works with all suppliers, it's only matter of time till one or more suppliers are back on because another couple want their date, so the pressure to move is re-applied. It's like sitting on the fence and hoping nobody else wants your plan B date, if it's mid-week it is less chance but with the lockdown being so long and so many weddings effected it isn't working from our experience. My tip is don't decide what to do with your wedding until it's 8 weeks out."
Advice and suggestions from real couples on wedding postponements
"Get on the front foot. Write a list of pros and cons. Even if you think it's not necessary to postpone, speak to your venue and your suppliers to understand what a rearranged date could look like and the cost implication. Make sure you have all the information you need before making a final decision."

Nadia, Irish bride postponing her wedding from August 2020
"Be patient. Emotions are on overdrive right now so it can be hard to see clearly when all you want is to have your dream day with your friends and families. All I can say is comunication with your partner is key and remember to be patient with them as well. It might not be the original plan but it will turn out to be a day you will both never forget no matter where or how it's done."

Ashley, planning her Irish wedding from Canada
"I feel sorry for any couples in limbo… We had to deal with the situation in the very initial stages… We didn't have time to think about much and just had to be proactive. The decision process was taken from us, we didn't have much choice in the matter! I feel that there may be some level of restrictions in place for quite some time so each couple has to decide what's most important to them. If they are determined to have their big day with big numbers just as they had initially hoped for then they are probably best to postpone. However, if they are open to the idea of an intimate ceremony and a different layout for the wedding day itself and then maybe a big celebration for the one year anniversary or something like that, then they should consider proceeding and creating a new dream! I think another important thing for couples to consider is what other plans they have for their near future. I know for us, we kinda had a two year vision of extending our family and renovating our home. I didn't want the postponement of the wedding to have a knock on effect on all of this so we've considered how we can still plan around our new date! Our day won't be the exact one we had initially planned and I'm ok with that now although it was a bitter pill to swallow!!"

Kate, an Irish bride who postponed her wedding from March 2020
"I think if you're in any doubt at all, just postpone. Everyone will understand and then you can stop worrying about what to do. Making a firm decision really takes a weight off your shoulders. Try to use the situation as a positive. In years to come we'll be telling our wedding story to our grandchildren, so make it an interesting one! Be grateful for what you have, instead of disappointed in what you've missed out on. People are losing their loved ones, their jobs and their businesses. At least our wedding will happen some day, so be happy and cherish those around you."

Aine, an Irish bride who postponed her May 2020 wedding
"The decision was taken out of our hands by our venue but I am glad now that it was. Our guests have been extremely understanding and supportive. We have received well wishes from people that weren't even invited lol You feel a real sense of relief once you know that the day won't take place when you initially thought and you can finally start to move on once you know. I think it's important to allow yourself to feel sad. People often say that this pandemic is causing a lot more grief and stress for people than just a postponed wedding but I personally feel that it is okay to feel a little sorry for yourself. It was your special day and that has been taken from you. That feeling won't last long and you absolutely start to look toward the future. Our wedding is now 2021 and we have accepted that! We are now going to focus on buying our first home in the meantime and try to make the most of this horrible situation. What is meant to be won't pass you, and you will have your special day."

Hayley, who booked me as her wedding videographer, and had to postpone her date
Advice and suggestions from real Irish wedding suppliers on postponements
"If you are considering postponing, firstly remember it is your wedding. Wait and make the decision when you are ready (do not lose completely the enjoyment of your wedding). Decide what is important to you: which people, the venue, which suppliers and anything else. Then try and find a date that you can match the most availability to. The more flexible you are around days of the week the more chances you have at matching all of your original plans when postponing. Remember, someone wants to marry you. When you are up against it, default back to that fact and enjoy their company. You can have a wedding (at some point in the future). Appreciate that given the situation the crisis has created that things could be worse and when the timing is right have an almighty celebration."

Benny from Laura & Benny Photography
"My tip is don't bother with a Plan B until you know for a fact you are moving and it's a certainty. Don't decide until you have to, which is about 8 to 10 weeks out. If you move, try to keep your suppliers that you have researched, so you don't have to do it again, and think of mid-week and off-peak [dates]. I would say to couples, your wedding will happen, all be it a different day maybe, but the most important thing is you have your health and it will be a super wedding day, nothing will stop it from happening. Keep the head up. It is a crazy time for us all, but there are worse things that could happen.

Mark Fennell from Mark & Fiona – The Fennells
"It can't be easy for couples, not knowing whether to keep planning or postpone. Talk to your suppliers, make sure the main ones are available first or you may find yourself revisiting new suppliers which will be lots of work."

Nicola Webster from Nicola Webster Photography
"Biggest tip is to contact your suppliers as soon as you make your decision, don't leave it till the last minute, the vast majority of suppliers are only too happy to help when they can. I have friends in Italy and Spain and over the last few days both have said that signs are encouraging, there is talk of easing of restrictions, albeit it in a piecemeal fashion. I am a glass half full type of person so I really do think that by the end of August things will be relatively back to normal."

Kevin Morris from Kevin Morris Photography
"I'm sure this, as all things, will pass. Take one day at a time and keep in touch with all interested parties."

Rory McDonald from WeddingsOnline.ie
Do I need to re-apply for my marriage license?
The current HSE guidance states that if a couple already had their 'marriage notification appointment', and have already received their marriage license, but if they now need to change their wedding ate, they will have to re-apply, but they will not be charged the 200 Euro fee again.
There are currently no appointments in person, and all applications are now made via snail mail.
Contact your local Civil Registration Service office.
https://www2.hse.ie/services/births-deaths-and-marriages/contact-a-civil-registration-service.html

All of this information can change, and you are advised to check the HSE website for updates:
https://www2.hse.ie/services/births-deaths-and-marriages/how-to-get-married-in-ireland/how-to-get-married-in-ireland.html
Should I send new wedding invites?
Some couples are at a complete loss as to what to do regarding invitations during this time. They have sent out invites for a particular date already, only to have to postpone their wedding soon thereafter. Or they didn't hear back from some people when they sent their invites originally. Then, they meet people in person, who don't mention their wedding at all. This causes upset, confusion and paranoia.
If this sounds like something you've experienced, rest assured that people most likely are not mentioning your wedding because they don't want to upset you, and because of all the uncertainty that they have to deal with in their own lives as well. This is a once in a century global pandemic that we are all living through.
Everyone's individual situation is different, but I would advise you not to ignore your intuition. There's nothing like a bride's intuition! It doesn't lie.
Once you have your new date set in stone with your venue, then, and only then, either send out invitations to everyone you want to attend, or contact them by some other means. Use whatever method is best for you and what works best for your wedding.
What do I need to do? Some final tips from your wedding videographer, Richard Finlay…
Communicate well with your suppliers. Don't take anything for granted.

Consider a Sunday – Thursday wedding, if you haven't already. The suppliers that you currently have booked are more likely to be available mid-week 2021.

Keep in mind that dates for 2021/2022 are filling up fast in the diaries of most wedding suppliers, particularly Friday and Saturday dates. Brides and grooms are at home now, and they're planning, researching and booking. They are aware of what's going on, and they know that the more wedding dates that are moved into a wedding videographer's diary in 2021 from 2020, the less chance they have of being able to make a booking themselves when the time comes.

Don't decide on a new date with your venue and then e-mail your suppliers telling them that your new date is X. Get two or three available dates from your venue, and e-mail those dates to all of your suppliers at the same time, asking them which of these dates they are available for. This way, you are more likely to get all of your suppliers on board for your new date, and you won't have to lose out on non-refundable deposits.

Set a date for postponement, say, 8 or 10 weeks prior to your already scheduled wedding. Make the decision based on all of the available information that you have on that day.

You can have a Plan B date in mind, but remember that suppliers are literally juggling so many bookings right now, that you need to ensure that your plan Bs and plan Cs don't create an administrative nightmare where your date is mixed up or double booked. Limit confusion. Seek clarity.

"And finally, I just want to say "Thank you" to all of my couples. I know it's not an easy time, but when your wedding day finally arrives, I'll be there not just as your wedding videographer, but as a friend, because you have all been so supportive of me."

Richard Finlay, Bride & Groom Films, Irish Wedding Videographer
---
Post update: Tuesday, May 5th 2020
Two tweets from WeddingsOnline.ie, seeking clarity with regard to "numbers allowed at weddings" in Ireland from July 20th, and from August 10th.
Since different venues have different capacity, I'm wondering if it would make sense for the government to say something like "Whatever your max occupancy for weddings is, cut that number in half to maintain social distancing." A room that can usually cater for 300 people surely isn't going to be held to the same rule as a small country house venue, for example, that holds 80 or 100 people.
---
Sign this petition calling for Covid- 19 clarification for the Irish Wedding Industry
Please sign this petition calling on the Irish government to provide more clarity on crowd sizes that will be allowed at weddings after July 20th and August 10th this year, and on social distancing recommendations that will apply.
Clearly, the government takes its health advice from scientists and healthcare experts, and if they knew the answers to these questions right now, they'd tell us. The pandemic is a constantly evolving situation.
However, it's good to put our hands up and just let them know that we're still here, and both the wedding industry and people getting married are waiting for more information so we can begin to plan ahead.

https://www.change.org/p/the-irish-government-covid-19-clarification-for-the-irish-wedding-industry
Jonathan Bryans of WeddingsOnline.ie writes:
"The wedding industry in Ireland is worth over €750,000,000 to the Irish Economy each year and has been impacted massively since the onset of the Covid-19 Pandemic.
The industry comprises of Hotels / Wedding Venues and Wedding Suppliers and there are a huge number of self-employed and business owners in the group.
It is also impacting on the very fabric of society as weddings cannot proceed currently.
Whilst there is reason for the postponement of weddings currently, what is suffocating the wedding industry and couples who were planning their nuptials is lack of clarity in terms of your phased re-opening plan.
The lack of clarity we refer to is around the following two areas:
The number of guests allowed at weddings from the 20th July & the 10th August 2020.
The social distancing regulations that may or may not be introduced for the roll out of these phases.
We call on the government to give answers to the above questions and allow:
Venues to plan re-opening
Wedding Suppliers to make plans to help and service couples
Couples to be able to make concrete plans for their own futures
Join your colleagues in the Irish Wedding Industry by signing the petition today."
---
Leading Irish Wedding Planner Michelle McDermott speaks about her experiences since COVID-19 hit Ireland…
Michelle McDermott of Dream Irish Wedding is a renowned destination wedding planner. I've had the pleasure of working alongside Michelle at many weddings throughout the years, as the official wedding videographer for her clients. Her weddings are like works of art, and she's incredibly passionate about creating unforgettably memorable wedding days for her national and international clientele.
Michelle recalls, "I first heard about it being in China but never for one minute did I see it spreading… I felt it would be similar to SARS, which hadn't effected us really. The first cancellation was just before lockdown. A couple from the USA whose wedding was due to happen on the 19th of March just cancelled it on the 12th, one week prior to the actual day and one day before they were due to fly to Ireland for it. Within days their venue Adare Manor where they were due to have it was closed and Ireland was in lockdown Phase 1.
And from there it has been a steady flow of postponements with all of our weddings up to and including August postponed and while September weddings are hanging in there, some of which are postponements from earlier this year, who knows if they will actually go ahead. Particularly as all of them are couples/guests from USA. So while Ireland will be open for weddings the current 14 day isolation on arrival into Ireland will mean travelling is not an option for them."

Watching Michelle work with her couples, I know she has an authentic connection with them, and will only offer real and sound advice. But I know that this pandemic must have affected her emotionally.
"Emotionally, I have felt for each and every one of my couples", Michelle says. "The biggest day of their lives, many planned in another country, just to fit the fairytale, gone in one sweep.
All couples have been very level headed and reasonable but in their own words this is because they have been greatly helped by having a wedding planner who looks after cancelling/re-booking/re-contracting/negotiating new prices and sending out date changes to their guests for them. In summary, they just have to choose the new date from selection I bring to the table. I have suggested, out of respect to their guests, that they contact their guests to advise of cancellation personally…"
"I would like to take this opportunity to compliment and say thank you to all of our venues & vendors who have been so helpful & really gone way beyond their remit to accommodate postponements. They really have made my job so much easier and our clients all coming in from overseas have seen Irish venues & vendors being a lot more accommodating than some of what they are seeing in their own country!"
And is Michelle concerned or anxious about the future? "I do of course worry about the future of my business but am very positive about how resilient the wedding industry is and we will be back bigger and better than ever all be it with some variances…"
"We must go forward with strength, hope & excitement, our clients & future clients need this."

Michelle McDermott, Dream Irish Wedding
And some sound last words of advice from Michelle: "Engage a professional wedding planner whose clarity, trust and connection to their clients will take you down the aisle stress free. This is a moment in time which we will get through and you WILL have your fairytale wedding."